Best Veneers LaminatesTreatments Clinic in
Wadgaon Sheri
Pune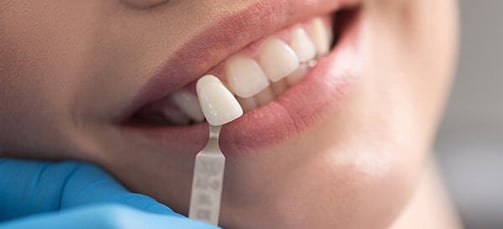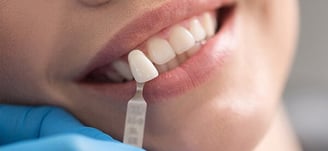 A smile is the best piece of jewelry you can wear. However, sometimes the priceless smile gets lost because of crooked teeth or a flawed denture. This is precisely why you need dental veneers. Orthodontists have been performing this cosmetic procedure to improve the appearance of your teeth, concealing hidden cracks, healing malformed teeth, and hiding teeth discoloration.
In addition, many people have tooth gaps that can also be hidden with a porcelain veneer. It provides excellent relief from permanent tooth loss issues.
What are Dental Laminates?
When it comes to instant facelifts, dental veneers are the best treatment one can go for. A lost or crooked tooth might snatch away your confidence, which can be restored with such a dental transformation. If you are looking for a smile makeover, you must visit the best dentist specializing in cosmetic dentistry in Wadgaon Sheri.
While porcelain teeth veneers are a dental prosthetic for covering the flaws of a tooth, Laminates is a brand and a type of veneer used by many orthodontists. Laminates are comparatively more affordable, convenient, thinner, and have a faster application time than dental veneers. Laminates are similar to dental veneers but take little dental preps or effort that a traditional veneer might require. Laminates are ultra-thin covers for teeth made of porcelain material that looks exactly like a natural tooth. It covers the flaws or crookedness of a tooth as a corrective procedure.
Benefits & Advantages Of Laminates
There are multiple benefits of opting for a dental veneer. Such as
Great Substitute for Braces

Non-invasive- Orthodontists can perform the implant of porcelain veneers without shaving teeth. So, no need to worry about cuts or tooth enamel removal.

Quick Recovery

Constructed with Technology

Durable- With proper care and maintenance, porcelain veneers can last for a long time, almost 15 years.

Hides Discoloured Teeth

Improves Smile

Highly Convenient
Is Laminates Right for You?
If you are looking for a more comfortable type of dental veneer just as durable as a traditional one, Laminates are a perfect choice. In addition, it is a non-invasive procedure that involves less time and no recovery period, which might be best for anyone.
Anyone who needs to improve their smile by covering the permanent flaws on their teeth can go for a Veneers/Laminates treatment. However, it is essential to know that it is not recommended for teeth that are severely damaged or discolored.
How Does The Process Work?
A Laminates implantation starts by taking a bite impression of your teeth and an X-Ray imaging.
Then that image goes to a dental lab for dental imaging, where the Laminates are crafted and customized to fit into your teeth.
After your Laminates are constructed, the dentist will start placing them on the problem area without drilling or removing the dental enamel.
You get an immediate result of prettier-looking, perfect teeth.
Why Would You Need Veneers or Laminates?
You will need veneer teeth for plenty of reasons. You can go for a Laminates treatment without a dentist's suggestion for an aesthetic transformation of your dental structure. Often, dental veneers or Laminates are prescribed to:
Fix cracks and chips.

Fix Crooked Teeth

Fill in tooth gaps

Treatment for damaged tooth enamel

Conceal discolored teeth
With Laminates, patients can expect the following:
Usually, the procedure of Laminates placement may take up to two visits to the dentist, where one sitting can be as long as hours. These settings involve thorough examination and preparation of the tooth. The dentist starts with comprehending your oral health issues that must be fixed before the veneer placement. Next, you will be handed a shade card to choose the best shade for your Laminates teeth.
After everything is done, the dentist will perform a non-invasive procedure to place the Laminates on top of your natural tooth.
Why Visit Dr. Awanthi's Clinic for dental veneer treatment in Pune?
Many people residing in Pune, Maharashtra, find Dr. Awanthi's Clinic the best place for dental issues, including dental prosthetics and implants. People find this clinic the most affordable dental clinic compared to the others in the area. Dr. Awanthi provides excellent treatment and high-quality post-procedure care, so people recommend this place for all their dental worries. Here are some reasons why you must visit Dr. Awanthi'sClinic
Excellent care for the patients

Expert handling of issues

State-of-the-art equipment for procedures

Experienced dentists

Hygienic and clean environment

Knowledgeable staff
Affordable Clinic for Veneers/Laminates Treatments in Pune
If you are looking for an affordable dental clinic for Veneers/Laminates Treatments, Dr. Awanthi's Clinic is the ideal place. Dr. Awanthi specializes in cosmetic dentistry and dental implants. After completing her graduation from Vasantdada Patil Dental College and Hospital, she started practicing in Wadgaon Sheri, Pune.
Dr. Awanthi has years of experience in dental prosthetics, which she performs with exceptional care using modern equipment and technologies in Dr. Awanthi's Clinic.
About Dr. Awanthi
Doctor Awanthi is a Dentist, Dental Surgeon, and an expert in Cosmetic Dentistry. She has done her BDS from a reputed dental college and hospital in Maharashtra. She has been a skilled dentist to perform various dental implants and cosmetology with great care.
Address - Opp. Hotel green thing, Next to axis bank ATM, Wadgaon Sheri, Pune, 411014