What are Dental Implants?
Best Dental Implants Treatment in Wadgaon Sheri, Pune
Our dental implants fit seamlessly into your mouth, making them functional and aesthetically attractive.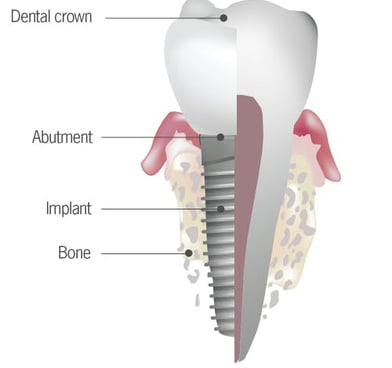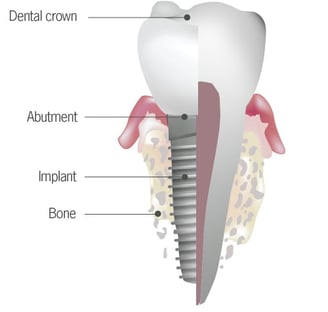 What is the procedure and aftercare of dental implant surgery?
Reasons You Need Teeth Implants
Benefits of Dental Implants
What are the Possible Side Effects of Dental Implants?
Why Visit Dr. Awanthi's Clinic for Teeth implants in Pune?
Dr. Awanthi - Best Dental Implantologist in Pune - Same Day Teeth Implants
A dental implant is a surgical procedure of placment of Implant and tooth crown . People suffer from missing teeth problems due to tooth decay and accidental injuries. The vacated tooth causes embarrassment for many people. Moreover, it prevents you from enjoying crunchy foods. The best way to eliminate this problem is by undergoing dental implant surgery.
The artificial tooth implanted in your jawbone through surgery has two parts. The first part is the bottom part, which resembles a spiral screw. The second part is the top, known as the crown, which resembles an original human tooth. People who do not want to wear dentures and seek permanent solutions can undergo dental implant surgery at Dr. Awanthi's clinic in Pune.
Extraction: The first step of Teeth implant placement is extraction. At this stage, the decayed or damaged tooth has been removed.
Preparation: The next step is preparing the jaw for the surgical process. Some patients may need bone augmentation through bone grafting.
Surgical Implant: In this phase, the tooth socket has been inserted into the jaw bone. The best dental implants include drilling the jawbone and inserting the socket.
Implanting the Crown: The next stage is inserting the crown to complete the dental implant process.
Filling Gaps: Filling the gaps between neighboring teeth after implanting a tooth is crucial to preventing facial structure degradation.
After undergoing the same day dental implants, patients should follow the recovery guidelines properly. Typically, it takes three to four weeks to recover completely after the surgery.
Dental implant surgery has become a common dental treatment across the world. The treatment brings a new life to your face by saving you from the embarrassment of damaged and decayed teeth. Find more reasons to undergo affordable dental implants at our clinic in Pune.
A dental implant helps avoid the hassles of maintaining dentures

The implanted tooth looks and feels like a natural tooth

Escape the embarrassment of having a missing tooth

Avoid change in jawbone shape due to decaying or missing tooth

Bring more shine and confidence to your smile

Enjoy chewing crunchy foods without worries

An escape from chronic tooth pain due to decaying tooth

Safe and affordable dental surgery
Undergoing the cheapest dental implants at our clinic can benefit you differently. In the following section, you can find the benefits of dental implant surgery.
Boost Confidence: A dental implant boosts your confidence by eliminating decaying or missing teeth problems.

Enjoy Foods: Many people cannot enjoy their food due to missing or decaying teeth. A dental implant brings the taste of crunchy foods back to your life.

Look Younger: Missing teeth make you look old, while a dental implant gives you a younger look. Tooth implants bring immense self-esteem to a person.

Improve Speech: A missing tooth causes a problem in delivering speeches. But dental implants can get rid of such problems.

Prevent Gum Irritation: Dental implant prevents gum irritation by replacing a vacant area with an implant tooth.
All good things have some downsides, and a dental implant is not an exception in this regard. Undergoing full mouth dental implants may have some side effects, and we must educate the patients about those side effects. Dr. Awanthi has years of expertise in eliminating most of the following side effects of tooth implants.
Recovery can be prolonged depending on the patient's age

Your regular health insurance may not cover dental implant surgery

Jawbone decay may take place if grafting before surgery has not been done neatly

A dental implant may fail in a few rare cases

The surgery is costly, though we offer it at the most affordable price
Dr. Awanthi's clinic is a leading dental implant center in Pune. We offer low-cost full dental implants and Teeth straightening to suit your requirements with precision. Choosing our clinic for this dental surgery can benefit you in the following ways.
We offer dental implants at the most affordable rate in Pune

Dr. Awanthi has proven expertise in teeth replacement and dental implant

Our clinic is poised with modernized facilities

Standard treatment procedure minimizes the risk

Same-day and painless surgery
Dr. Awanthi is a well-known orthodontist in Pune who provides various dental and oral care services. She has done mini dental implants, zygomatic implants, Teeth straightening, and other Teeth implant surgeries for many years. Patients can obtain safe, budget-friendly, and convenient dental treatment at our clinic in Wadgaon Sheri Pune. Call us now to schedule your appointment with Dr. Awanthi.
Dental implants are recommended for those who suffer from missing or decayed teeth. A damaged tooth is removed and replaced by an Implants . The artificially implanted tooth looks natural and helps naturally with chewing foods. Dr. Awanthi has 20 years of experience in dental implant treatment. If you are looking for the best and cheapest dentist near me for dental implants service, visit Dr. AWANTHI'S Clinic in Wadgaon Sheri, Pune.